Tue 22 August 2017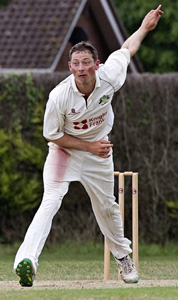 Paul McMahon
234 wickets @ 17.6
1,162 runs @ 21.9
Paul McMahon stands down as Cambridgeshire CCC Skipper
Paul missed all of last season with a knee injury, but returned to the side this summer as they came sixth in the three-day table and third in their one-day group. His work commitments with the International Cricket Council means he is set to be out of the country for much of next season and felt it would not be practical to carry on as skipper.
"I'll be in the UK for July and some of August next year, so hopefully I might manage to play some games in the Championship," said McMahon. "I'll stay on the committee and contribute whatever I can in that way. The two Eastern Division pennants (in 2011 and 2013) are the obvious highlights from my time as captain, and I'm proud of the fact that no other county has won more than our 21 Championship matches over that period. A couple of the wins from 2011 stand out – the game against Lincolnshire at March where we were down and out on three separate occasions but came back to chase 306 on the third day, and the Eastern Division decider at Wisbech when we beat Staffordshire deep into the last hour having been bowled out for 77 on the first morning."
He has taken 234 wickets at an average of 17.6, claiming 22 five-wicket hauls and bagged ten wickets in a match on seven occasions. He has also scored 1,162 runs with the bat at an average of 21.9. He was named the county's player of the year on three occasions and picked up the Frank Edwards Trophy in 2015 for being the leading bowler in the Minor Counties Championship.
More details in the Cambridge News article.