21 April 2017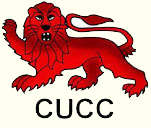 Cambridgeshire lost to Cambridge University by one wicket
Any hopes the University may have had of staging a three day county match at Fenner's any time in the foreseeable future were dealt a serious blow as the Fenner's groundstaff presented a wicket in April that was not only worn but had played poorly the first time it was used three days earlier. On the only chance the University had to impress the County Committee this season, the pitch betrayed bounce that could be described at various times as excessive or non-existant; then the student spinners extracted extravagant turn from the 30th over.
On a pitch more suited to a Sunday afternoon pub beer match, the county batting turned into a lottery with over a dozen half chances missed before drinks, however they perservered and posted an unlikely score of 166 for 9 which should have been well out of reach; nobody impressing with the bat.
The second innings took on an even more bizarre appearance as Cambs offered just five overs of seam and some 40+ overs of spin from six spinners, with only first team regulars Arksey and Bruce making proper use of the conditions. It was a relief to all when someone contrived to hit a boundary to bring the farce to an end.
14 April 2017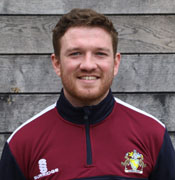 Paul Summerskill
65 not out,
3 catches &
a stumping
Cambridgeshire beat Huntingdonshire by 92 runs
The season opened with it's usual relaxed knock-about game against Huntingdonshire. A measure of the seriousness was that twelve played eleven and both sides were supplemented by five full county squad members. The star of the show was undoubtedly keeper/batsman Paul Summerskill, who is returning to his home club of Burwell after a spell in the Hertfordshire Premier League and is now available for selection again. He hit 65 not out in the first innings and took three catches and a stumping in the second.
With returning Captain Paul McMahon deciding not to risk a sore knee so early in the season after his reconstructive surgery last year, the coin was flipped by James Williams, who called correctly and decided to bat. After a slow start, Cambs were 69-4 in the 20th over and 121-5 after 30, with a useful 40 from Lewis and a 34 from Mansoor, but that brought Williams and Summerskill together and they added 129 runs in the last 20 overs; Williams ending with 55 off 68 balls and Summerskill 65 off just 53 balls; Cambs ending on a respectable 250-6 off their full 50 over allocation.
The game was never going to be a serious contest after Josh Arksey bowled star Hunts batsman Johnny Carpenter for a duck in his first over. The spinners Arksey (left arm orthodox) and Chandraker (right arm leg spin) picked up three cheap wickets apiece as Hunts tried to keep up with the rising run rate, but in the end the game petered out after just 31 overs with Hunts all out for 158.