Sun 14 May
Cambridgeshire 260-9 beat Cumberland 247-8 by 13 runs
Back-to-back defeats over the bank holiday weekend left Cambs facing an uphill challenge to qualify from Group Three, but they bounced back to form at The Leys School yesterday with a thirteen run win. Having finished their group matches with an inferior run rate to Cumberland, the winners of the Cumberland v Norfolk match next week will join Lincolnshire in the quarter finals.
Lewis Bruce opted to bat first and Nesan Jayeratnum hit 57 Michael Pepper top scored with a fluent 65. A final swashbuckling 36 from wicketkeeper batsman Paul Summerskill got Cambridgeshire up to a decentish 260.
For the first time this season the bowers applied pressure (but without taking wickets) and gradually the asking rate crept up, at one stage reaching over 12 an over. Visiting skipper Gary Pratt (86) looked as though he might take the game away, but the target was always just beyond them. Cambridgeshire were able to get home, with Josh Arksey the best of the bowlers with 4 for 53.
Mon 1 May

Lewis Bruce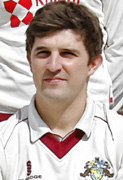 40 no in another
losing cause
Norfolk 174-4 beat Cambridgeshire 170 by 6 wickets
Another below par performance from the County has all but extinguished their chances of going on to the latter stages of the Unicorns Trophy Knock Out cup.
Given first use of the Manor Park Pitch they looked to have got away to a solid, if unspectacular, start at 80 for 1 but what followed was procession back to pavilion with only skipper Lewis Bruce unbeaten on 40 and Michael Pepper 30 showing any aptitude for the battle. Ben Smith was particularly unlucky, out to an outstanding catch by Sam Arthurton at short cover, but a succession of poor shots did for the rest.
A target of 170 was never going to be enough to defend with an attack so woefully out of touch. Again lacking any consistent line, length or penetration, two top order batsmen made untroubled fifties as the hosts cruised home for the loss of just four wickets.
Sun 30 April

James Williams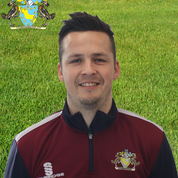 A fifty in a losing cause
Lincolnshire 348-4 beat Cambridgeshire 243 by 105 runs
In a strange fluke that occurs only in cricket, the County found themselves chasing exactly 348 for the second Sunday in a row. This time, unfortunately, the County found themseles unable to repeat the same heroic run chase they managed last week.
Lewis Bruce once again decided to keep faith with a tried and tested option - win the toss and stick the opposition in; but the Captain's decision was not backed up by the bowlers with a performance that can only be described as woeful; albeit the conditions with a gale blowing did not make life easy. It must be a worry that Cambs have conceded nearly 700 runs in the last two games, the shortcoming in the bowling economy rates being the obvious common factor.
West Indian Recordo Gordon has now gone for exactly 81 runs off ten overs twice (another fluke coincidence); but all the bowlers went at a run a ball or worse this time, even Joe Dawborn failing to apply the brakes.
The batting showed some determination, but when chasing a big target risks had to be taken. Whereas last week they found the gaps today they found the fielders. James Williams hit 50 and Nesan Jayeratnam 43, and there was an entertaining cameo last wicket partnership of 39 between Sam Rippington and Josh Arksey, but in the end the County subsided to be all out for 243.
Sun 23 April
Northumberland 348-8 lost to Cambridgeshire 349-7 by three wickets
The County produced one of their most remarkable batting performances for many a year to get their Unicorns one day campaign off to a successful start. One-Day Captain Lewis Bruce gave Northumberland first use of the benign Saffron Walden pitch, but that looked a unwise move as the visitors got to the half way point with just one wicket down. Joe Dawborn, who was the pick of the county bowlers with four wickets from his 10 overs, pegged the visitors back but they raced away at the end to set a massive target.
Asim Butt immediately took up the challenge but quickly lost debutant Adam West without scoring and Michael Pepper and Ben Smith cheaply . However, he was then the dominant partner with an array of shots as he added 103 with Chris Pepper. Butt departed with the total on 190 a having hit a magnificant 128 off 95 balls leaving the county still requiring 158 off 20 Overs. Lewis Bruce and James Williams then chipped in with 35 and 21 respectfully, then with the County still requiring slightly more than 12 an over returning wicketkeeper Paul Summerskill produced an innings described by Club Captain Paul McMahon as one of the best displays of striking he had seen in a Minor Counties one day competition with a brutal 72 off just 30 balls.
When Pepper departed for 66 the target was 44 needed off 4.1 overs. It was left to another debutant Recordo Gordon hitting two maximums with typical Caribbean gusto in the penultimate over to see Cambridgeshire home with seven balls to spare.